Welcome to the Home Page for
Jeffrey G. Brown!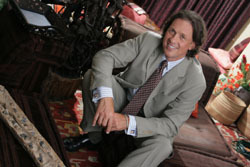 One of TV's most sought-after legal experts, Jeffrey Brown is an expert source available to you for Radio, TV, Print and Web. He's smart, witty, high-energy, compelling and media friendly.
Jeffrey G. Brown's areas of expertise include the following:
· Federal Criminal Defense Law
· Teaching Law (Mr. Brown is an Adjunct Professor for 2nd and 3rd year students at the Stetson School of Law)
· Changes in the Law
· Media and the Law
· Extreme Adventure and Mountain Climbing (Mr. Brown has climbed 3 of the 7 Summits-Kilimanjaro, Aconcagua, Mt. Elbrus.